Demand SSCC Pallet Labels on full steam in the USA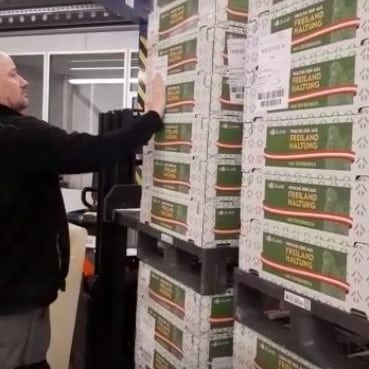 About one year ago we wrote an article on the SSCC Pallet Labels trials at Walmart and Lidl in the USA. Walmart was running a trial with pallet labels for produce with one of our customers as pilot. The trial was successful, resulting in Walmart now setting strict requirements on labeling with GS1 SSCC Pallet Labels and Amazon following their example.
Ovotrack offers the solution for this increasing demand for SSCC Pallet Labels, with Ovotrack SSCC Pallet Label. The Ovotrack Palletizing Solution offers the ability to group individual cases to a pallet so that not all individual case labels have to be scanned to connect them to the sales order or Bill of Lading during dispatch. 
This process results in an internal pallet label. The Ovotrack SSCC Pallet Label Solution will create a customer specific pallet label as soon as the internal pallet label is scanned and connected to a sales order.
It is possible to limit this functionality to specific customers and products and it is also possible to have different SSCC layouts for different customers. You can select different printers to print your SSCC labels, in case you are in a large warehouse with multiple printers. Last but not least; thanks to the cooperation with Lobster you could easily deliver the information from SSCC Pallet Labels automated to retailers, for example by Advanced Shipping Notes (ASN's).
Our customer, and first user, S&R Egg Farms reports to be very satisfied with the options and flexibility the Ovotrack SSCC Pallet Label Solution offers.
Interested to know more about our Ovotrack SSCC Pallet Label Solution? Do not hesitate to contact us!
Take a look at the other software modules for Egg Grading