Connect your scales to Ovotrack for faster, better weighing of pallets with eggs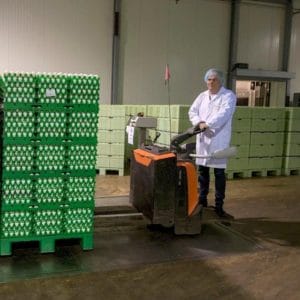 Connecting weighing scales is becoming increasingly popular amongst Ovotrack customers. Some weigh all ungraded or nest-run eggs; some only weigh the light weights. Other customers weigh the eggs they sell for further processing, whilst customers in the Egg Processing sector weigh pallecons with egg white, egg yolk or whole eggs. 
Each type of weighing scale can be connected, either as part of Ovotrack Receive, or by using Ovotrack Label updater software. Ovotrack can import weight data, providing the scale can export this over a serial connection. Scanning a barcode with an Ovotrack wireless scanner collects the weights, and stores this information in the database, along with the correct pallet ID. Weight information then becomes available for reports or printed labels.