Case study: Ovotrack at Wilcox Farms, USA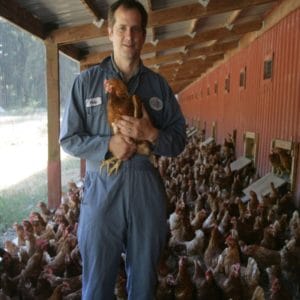 As the importance of specialty eggs in the USA grows, so does the need for tools to help separate different types of eggs in egg grading and processing centers. Wilcox Farms is one of the key specialty eggs suppliers in the USA, so it's no surprise Wilcox Farms was one of the first Ovotrack customers to address the need for separating all kinds of egg batches.
Wilcox Farms started using Ovotrack at one of their plants in 2010, to ensure that eggs from all contract suppliers are traceable. With Ovotrack Farm Labeling, Receive, Loader and Grader Communication, each pallet with nest-run (ungraded) eggs is individually labeled. By scanning the labels at receive and later on at the loader, each pallet is tracked until grading. The Moba Omnia grading machine reports the grading results back to Ovotrack. These grading results are than gathered from all pallets received from the same farm in one week. The totals are reported back to the farmers to help them improve the quality- and to make a correct farm bill.
"Ovotrack helps us save costs whilst we improve our processes"
Last year, the Ovotrack solution was moved over to the new PX530 grader installed in that plant. The Ovotrack ECI solution is now helping Wilcox Farms automate the batch switch for each pallet. An automatic solution was needed because the new grader came with an MR50 automatic de-palletizing robot. As part of the same project, Wilcox Farms decided to move the replaced grader over to their home plant in Roy WA, where they also had Ovotrack installed.
Andy Wilcox, fourth generation of the Wilcox family and Director of Egg Operations at Wilcox Farms is clear: ''We wouldn't be able to keep all the supplies separated in the way we do today, without Ovotrack. We want to be able to track each type of egg, farm, house, date of lay and individual pallet. This isn't getting easier; We have now asked Ovotrack to help us to improve traceability of the different certifications, such as America Humane and Certified Humane. Ovotrack has implemented a solution to achieve this, which is another milestone in our partnership. We like working with the Ovotrack team; their experience with egg grading and egg processing, their knowledge of communication with different types of graders and general understanding of our business makes things easier. And they help us save costs whilst we improve our processes.''