Print & Apply solutions: automatic labelling with case labels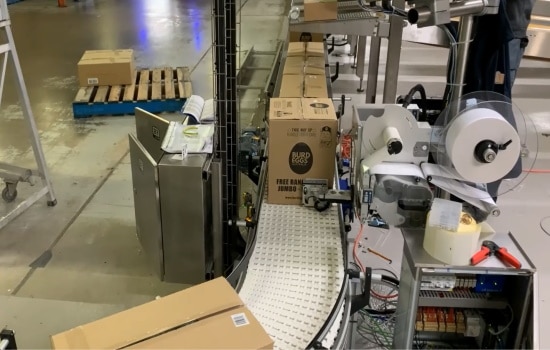 Automation of case packing is high on the agenda for a lot of egg grading centers. For newly installed grading machines case packing robots are often part of the project. To be able to label cases that are packed by case packing robots, Ovotrack offers print & apply systems. With the growing interest in case packers, the demand for these print & apply solutions is also rising. 
Different customers use print & apply in different ways, which we'll explain with the following examples:
Vital Farms
Vital Farms in the USA ordered a double print & apply system on a case conveyor that is dedicated for the cases that come from two CP12 case-packers. The solution consists of two print & apply systems so that it can run continuously; if one print & apply system is out of labels, the other will take over. Because the two case packers at Vital Farms always pack the same product, there is no need to identify from which case packer a case is coming. The label layout changes automatically based on the grader communication between Ovotrack and the grader.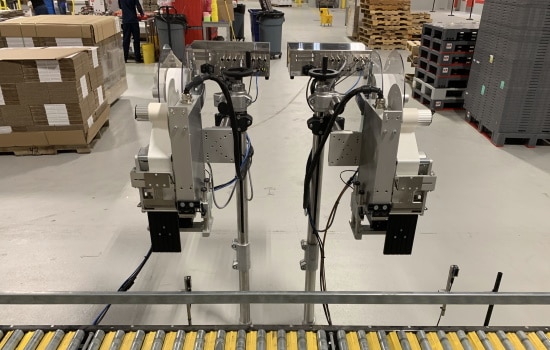 Schrall-Ei and Duncan Farms
A print & apply system can also be dedicated to one case packer like at Schrall-Ei in Austria. In this situation, the traceability is as accurate as it would be with manual label printing at the end of the packing lane; the cases are labelled before they enter the generic case conveyor.
This is also a good solution when the case packers are not straight behind the packing lanes like at Duncan Farms in Scotland. At Duncan Farms a conti-flow system brings the egg packs from several lanes to one central case packer. This case packer has a dedicated case conveyor with plenty of space for a print & apply system.
Valley Park Farms
But more and more, case packers are right behind the packing lanes with no space for print & apply systems. At Valley Park in Australia, Ovotrack recently installed a print & apply system with a scan portal that scans the UPC or EAN code from a case to identify and then apply the correct label. Another specialty at Valley Park is the fact that this print & apply system prints two labels; one label goes on front and the other label is applied on the side of the case.
In one of the next newsletters to come, the focus will be on tracking individual egg cases until they arrive at a central print & apply system.
Interested? Ask for more information! You can also use the Chat function on our website to speak to one of our employees directly!