Case tracking with 2D helper codes at Vital Farms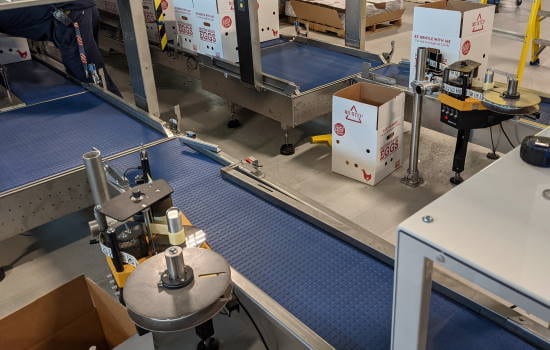 Vital Farms is investing in further automation of packing consumer packs in outer cases. All cases get a case label and in order to keep the traceability to the highest level, these case labels contain a unique Id for each case.
The case label is generated manually with Ovotrack End-of-lane labelling and Ovotrack button boxes for all cases that are packed manually. For the automatic case packing robots Vital Farms challenged Ovotrack for an automated case labelling solution that would still offer the same level of traceability as for the manual cases.
In cooperation with Carl Kicklighter and Brian Keener from Vital Farms, a case tracking solution was developed with the following elements:
label applicators (4) to apply small unique 2D codes on the empty cases in between each case erector and case packer;
scanners (8) inside the case packers, one for each side of the case packer, to read the 2D code on the moment of packing the case and connect it to the traceability information and prepare the case label but not yet print it;
scanners (2) further down the case conveyor, in front of the print&apply systems to read the 2D codes and instruct the print&apply systems;
automatic print & apply systems (2) to print and apply the correct label on each case;
Ovotrack software to connect it all together.
Due to Covid-19, installation of the solution at Vital Farm's processing plant was the biggest challenge. But together with Brian Keener and his team and the Ovotrack technical support specialists Miguel Abadia Sabel and Brandon Helmuth the solution went live end in November 2020.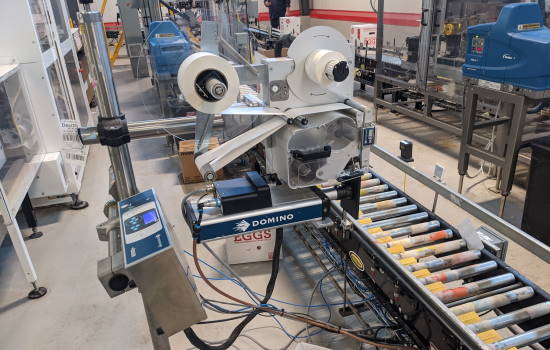 The case tracking solution offers a number of benefits over other potential solutions:
no need for multiple print & apply systems (on both sides of each case packer), where there is hardly any or no space to do that;
works for all sorts of cases – no need to leave a white spot on the case for printing a code;
the 2D helper code labels offer 100% readability - unlike codes that are printed with an inkjet printer;
no need for sensors or camera's to track each case from case packer till the print&apply system;
it is not a problem if someone takes a case from the case conveyor and later puts it back on again on a different location.
Interested in this solution? Do not hesitate to contact us via mail info@ovotrack.nl or by phone +31 343 453 416. You can also use the live chat function in the lower right corner on our website www.ovotrack.com