Case study: Oskaloosa Food Products tracks eggs from farm to breaker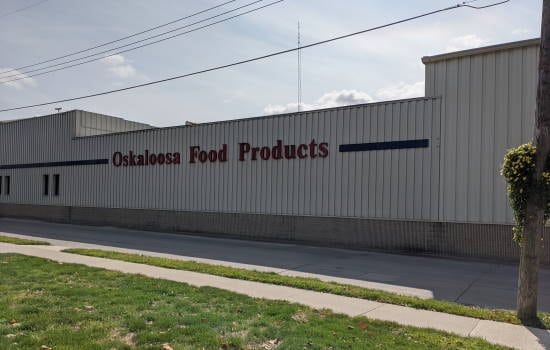 Oskaloosa Food Products is a state-of-the-art producer of high-end egg products. Spray-dried egg powder products as well as pasteurized liquid and frozen egg products in many different varieties and packaging configurations are produced in the egg processing facility, which is based in Oskaloosa, Iowa, USA. Most of the eggs that are processed come from the company's own farm which is located 10 miles from the processing plant.
Connecting Ovotrack with Sage
In December 2019 Oskaloosa Food Products decided to invest in an Ovotrack solution to get full control of the internal movements of all shell eggs. Part of the plan was to get all stock movements into Sage X3, which is the company's ERP system. Brad Hodges, CFO at Oskaloosa Food Products and project manager for the Ovotrack implementation comments on the current setup: 'All eggs produced at the farm are labelled with a unique tag for each pallet. Ovotrack is connected to the weighing scale. For each pallet we put one stack on the scale and Ovotrack stores that weight to the pallet tag.
"As the eggs are loaded on a truck, the pallet tags and truck's unique bar code are scanned. Ovotrack then generates a Bill of Lading for the truck with all pallet tags and the total weight. This is the first time that new stock of 'inside eggs' – as we call them - is created in Sage. The system on the farm is connected to our plant over a VPN so we can see the exact inventory of eggs on the farm and in-transit, accurate to the minute. Once the truck arrives from the farm, we scan the pallets and the bar code for the new location during unloading. This transfers the inventory to our plant cooler.  If we receive a load of eggs from an outside supplier, we label them during receiving process which creates a receipt to the Sage X3. With the Ovotrack solution we have complete insight as to how many eggs we've got at any moment in time, including information about where they come from. The last step is scanning the pallets when the eggs are put on the breaker. At that moment, the eggs are removed from inventory, and we have complete traceability for the eggs from beginning to end."
Implementation and next steps
The implementation was delayed for a short period of time by Covid-19 but Brad is happy with the way the project was handled: 'Brandon from Ovotrack is from Iowa so we had timely on-site implementation and support. The weekly project meetings with Sage and the Ovotrack team from Europe were done by Teams which also worked very well. All in all, we're happy with the current setup and we are looking forward to the next steps as it is our intention to implement other parts of Ovotrack as well.'