Granja Campomayor in full control using Ovotrack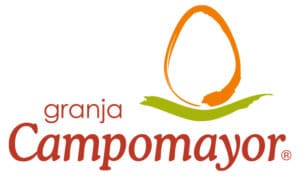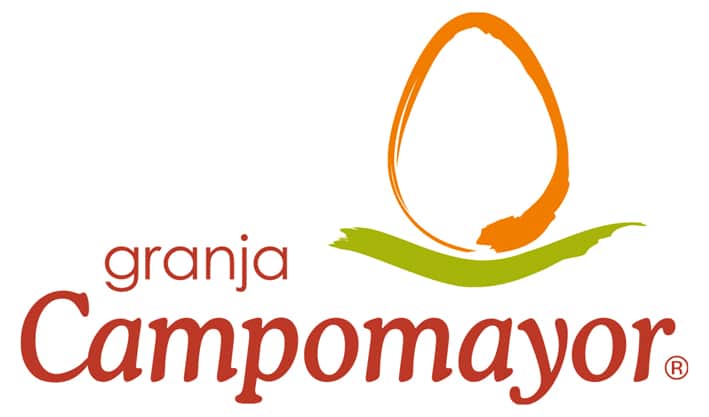 Some companies always strive to improve their processes. One of these companies is Granja Campomayor, located in Spain. With 72 years of experience in the egg industry, Granja Campomayor has grown to the point of producing and grading one million eggs a day with the utmost care and dedication.
The fully equipped egg grading, egg packing and egg processing plant of Granja Campomayor, based in Palas de Rei (Lugo), was inaugurated in 2011. In that period, various custom information systems were built by local IT companies to provide inventory control, product labelling and order handling.
During the years, Granja Campomayor was evolving and their local IT suppliers couldn't keep up the fast growing and improving egg production. Because they wanted to keep moving forward, Granja Campomayor was looking for a new partner. When they learned about the Ovotrack Solution, they decided to take the opportunity of using one information system that covers all steps in their production process.
"We are trying to connect to partners that can help us moving forward in the future and we believe Ovotrack is one of these partners"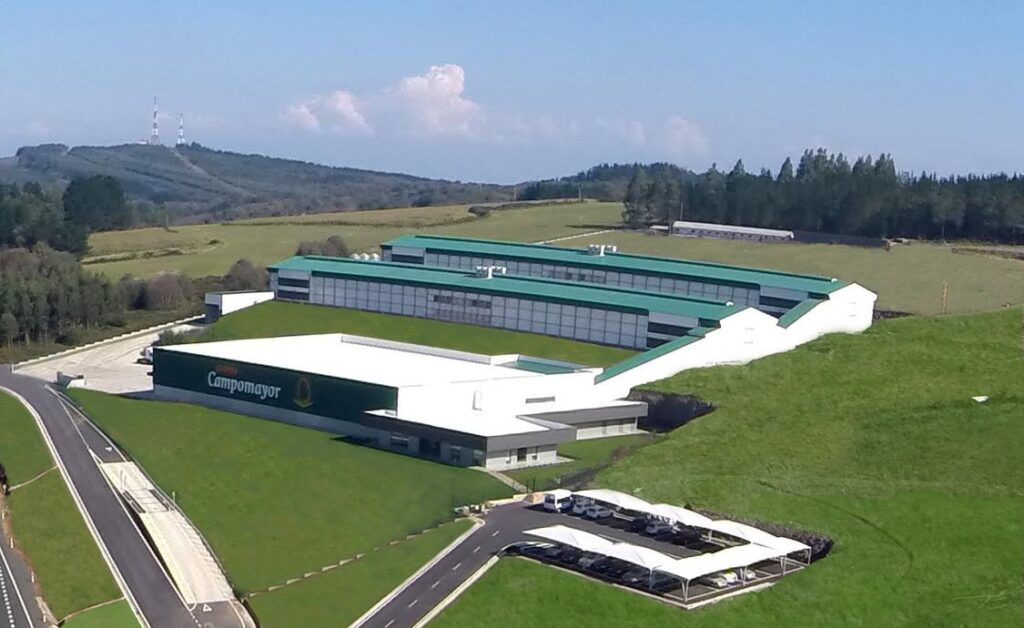 Óscar Piñeiro Quintana, IT responsible at Granja Campomayor, explains us about their biggest motives for working with Ovotrack: "We would like to work with partners that can help us improving our daily business. We have chosen for Ovotrack because of their knowledge and their big track record in the egg industry all over the world. We are trying to connect to partners that can help us moving forward in the future and we believe Ovotrack is one of these partners."
Raul den Adel, Sales Manager at Ovotrack and responsible person for the implementation of the Ovotrack Solution at Granja Campomayor tells more about the process: "The Ovotrack Solution at Granja Campomayor is a very comprehensive solution, as they almost use every single module Ovotrack offers.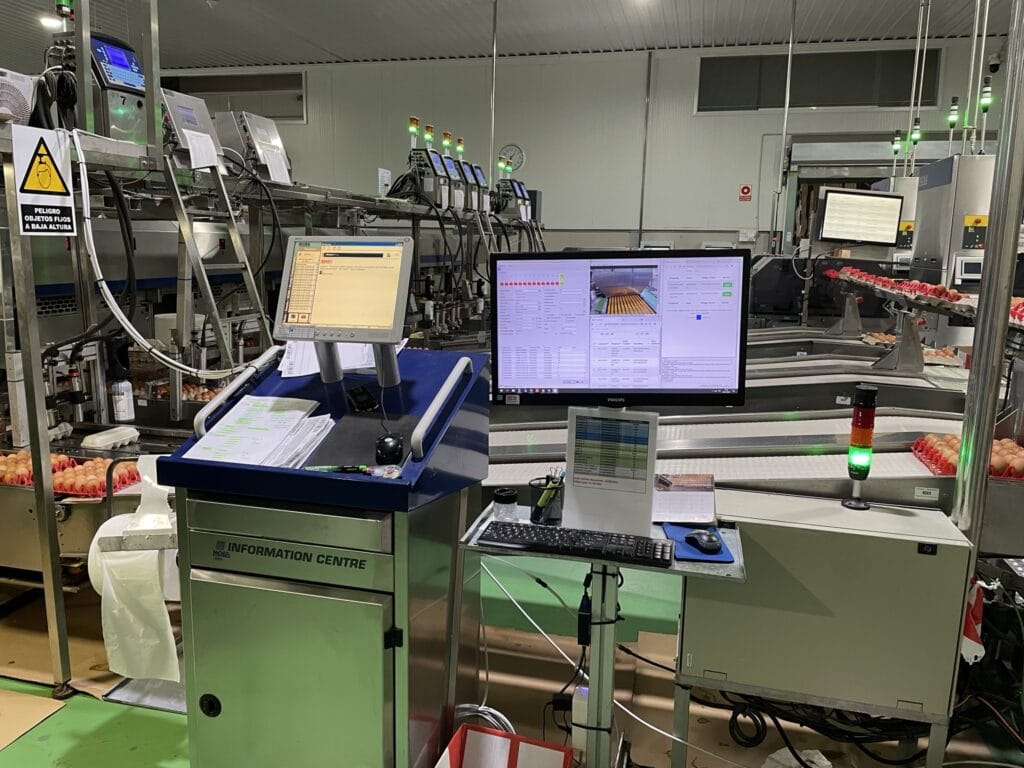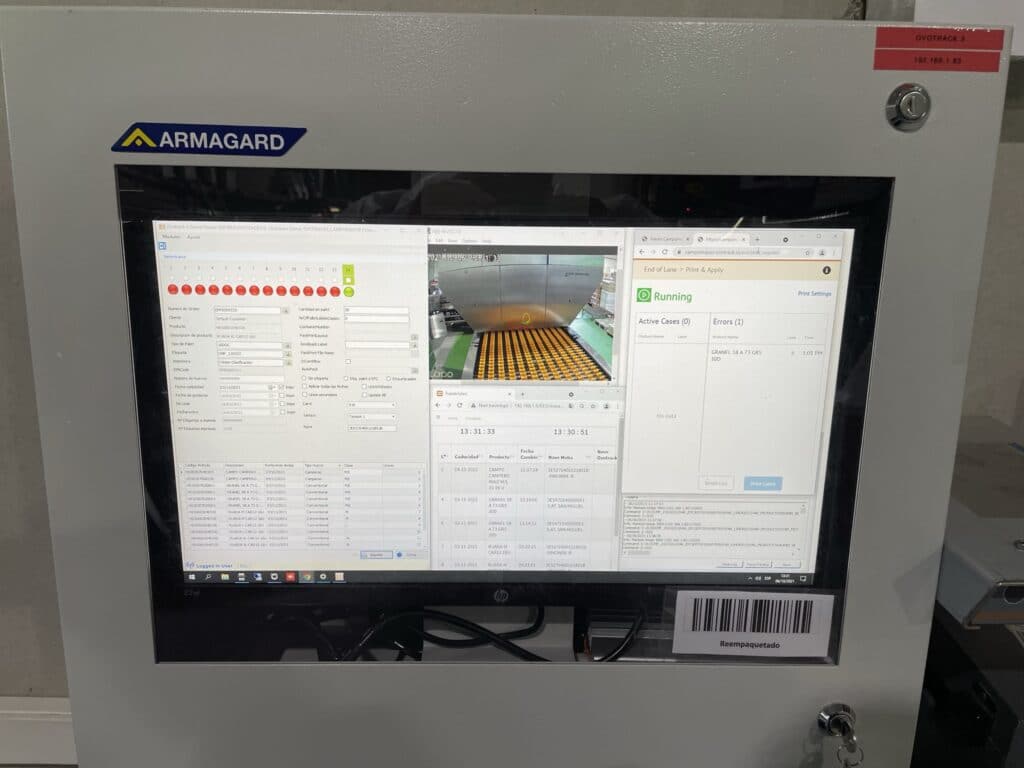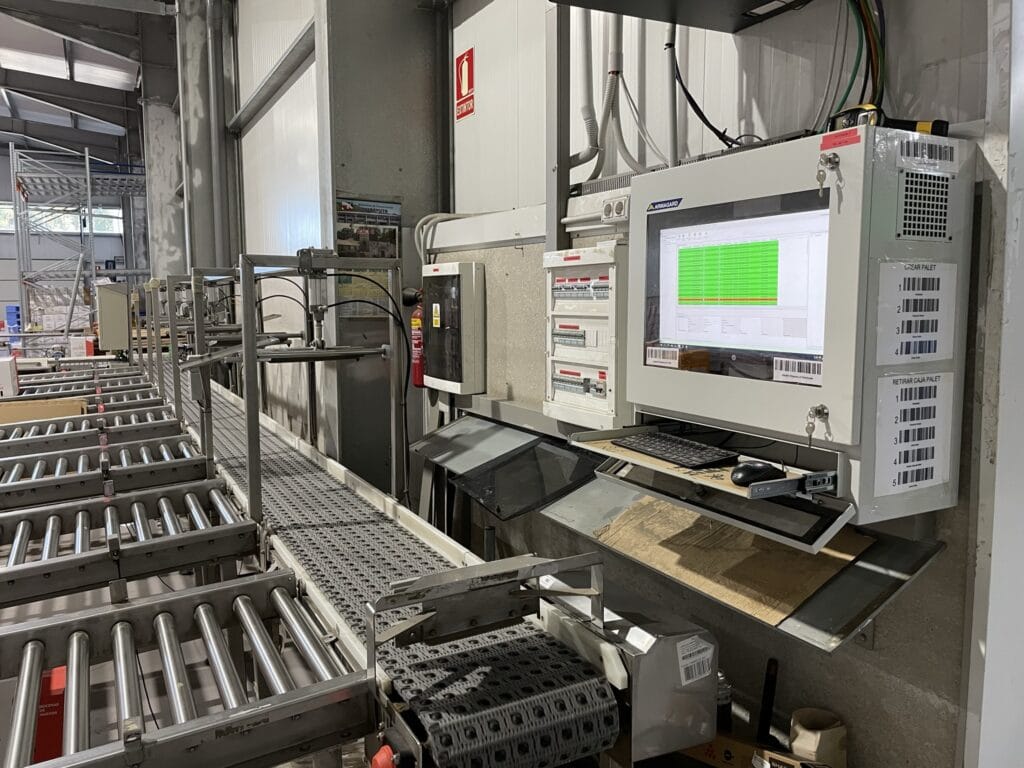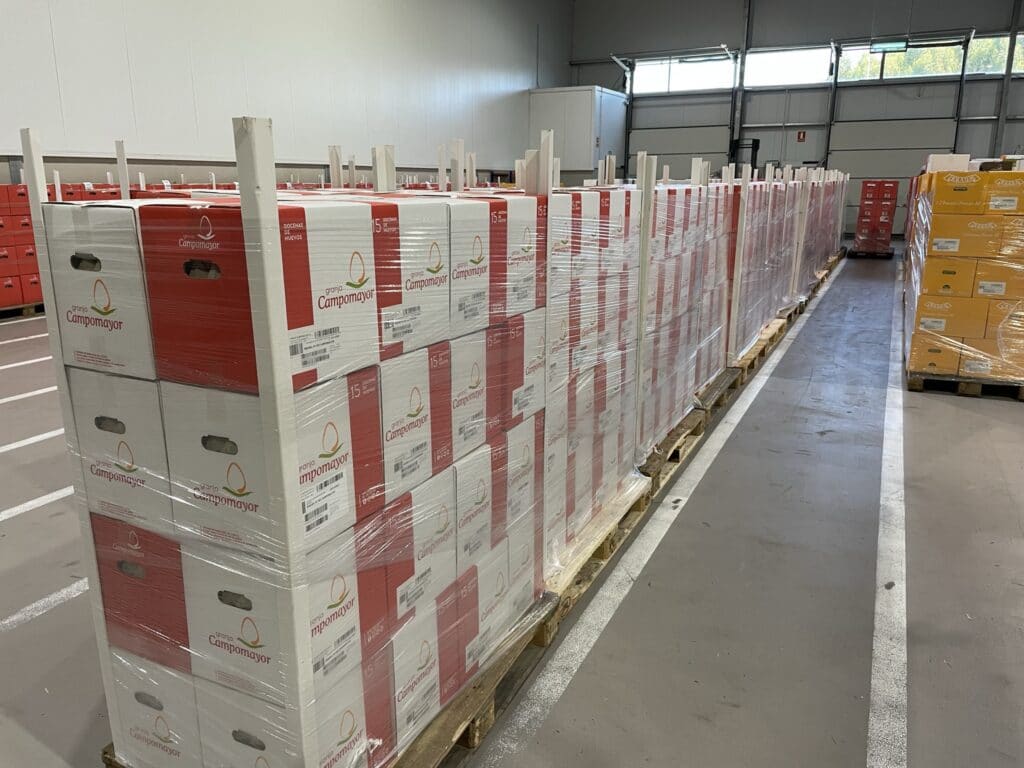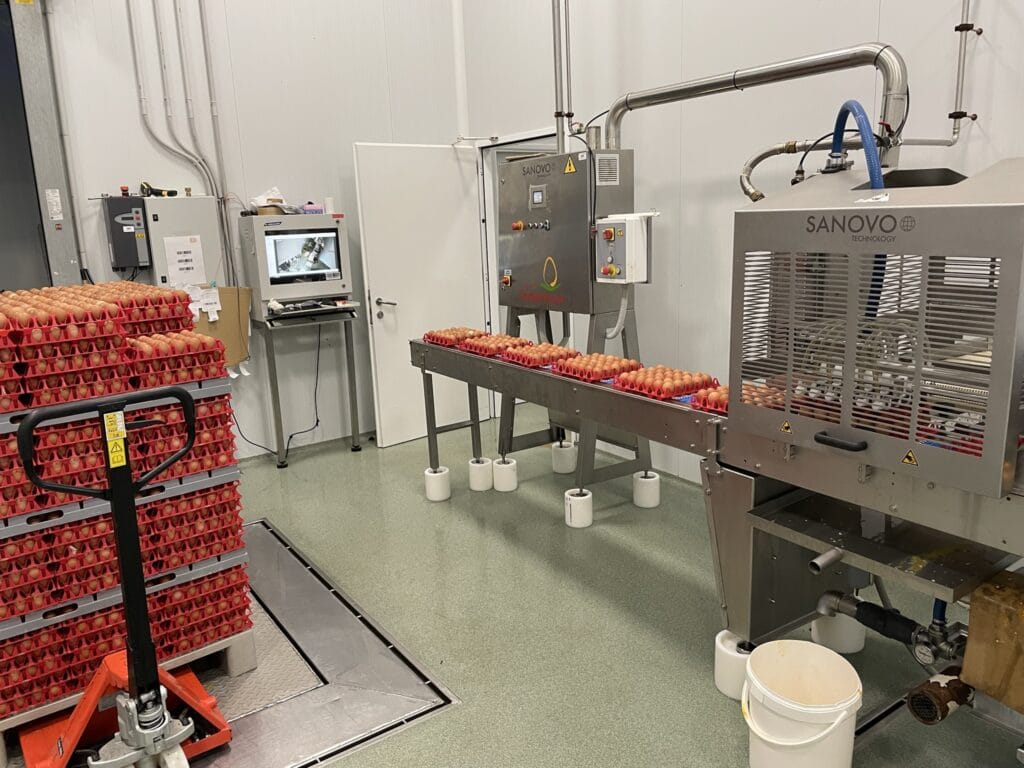 It all starts in their office, where we have built an interface with their ERP solution, called RPS from the company Ibermática, together with the local supplier. With help of this interface, all important data is being shared, such as inventory of ungraded eggs, finished products and packaging. But the two systems are also working together in the sales order process, which gives the ability of collaboration between the office staff and the production staff."
"A custom solution is built to follow each individual case on their conveyor belt"
"As Ovotrack is connected to their Moba Omnia grading machine, machine data has become more valuable for Granja Campomayor. Ovotrack helps them to get insight in their farms and of course traceability. At the packing side of the Moba Omnia, they have a semi-automated process with case packers and manual packing lanes. All finished cases are placed onto the same conveyor belt, which brings all different products to one automatic Markem-Imaje printer. Because all products are coming from various packing lanes, we developed a custom built solution, called Case Tracking. This solution gives the opportunity to follow each individual cases on the conveyor belt from the packing lane up to the Markem-Imaje printer.
With help of this Case Tracking Solution, Granja Campomayor is able to print all their finished products with one single printer. The Case Tracking Solution follows in real-time each individual case on the conveyor belt and sends the correct product label to the Markem-Imaje Printer. If Ovotrack does not recognize the product on the conveyor, the conveyor belt will be stopped in order to remove the case."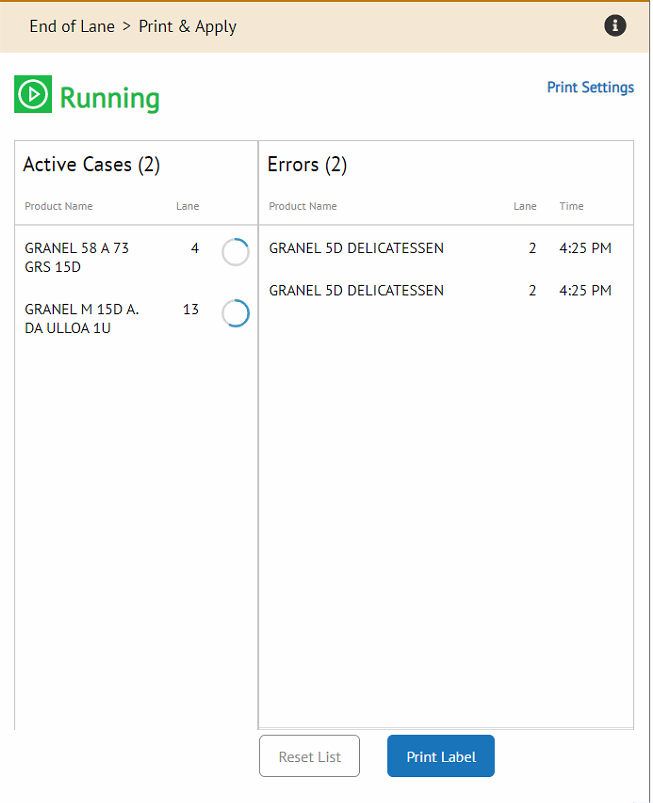 "Ovotrack is also being used in the egg processing area of Granja Campomayor. Graded class B eggs from the Moba Omnia are going to their Sanovo breaking machine. With help of registered weight per pallet data from Ovotrack, Granja Campomayor decides which pallets they are going to use for their egg processing production."+
Óscar Piñeiro Quintana adds on: "We are also happy with Ovotrack in our dispatch area. It makes our lives way easier now we are able to split orders and shipments. 
"Ovotrack is making our lives way easier"
Ovotrack registers everything and makes sure the correct information is being sent to our ERP system to invoice our customers. We are ready to improve our production further and get the most out of Ovotrack".
Interested to know more about the Ovotrack solution at Granja Campomayor or would you like to see Ovotrack in real life? Do not hesitate to contact us!