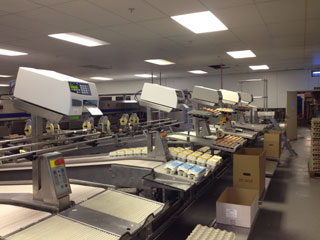 Ten behoeve van de traceerbaarheid en het voorraadbeheer van gesorteerde eieren dienen omverpakking te worden voorzien van een uniek etiket met barcode. Ovotrack End-of-Lane bestaat uit een Ovotrack PC, een aantal button boxen die aan het eind van de inpakbanen worden geïnstalleerd, en een aantal label printers die bovenop de button boxen worden geplaatst.

Het instellen van de Ovotrack End of lane software kan op verschillende manieren. Handmatig het juiste product selecteren is mogelijk maar er kunnen ook verkoop- of productieorders naar de software worden verstuurd om basis daarvan een inpakbaan in te stellen. Het is ook mogelijk om Ovotrack End of lane in te stellen via de sorteermachine.
Met het instellen van de juiste productie- of verkooporder of product voor een inpakbaan is ook de lay-out van het etiket bepaald, alsmede de overige gegevens die op het etiket moeten worden geprint.
Wanneer een omdoos, krat, pallet of display vol is, drukt de operator op de knop op de button box die bij die inpakbaan hoort. Vervolgens wordt een etiket uitgeprint met onder meer een unieke code in tekst en in barcode. In Ovotrack is nu bekend welke eieren in deze omverpakking zitten.