Eggs Cargo Identifier (ECI)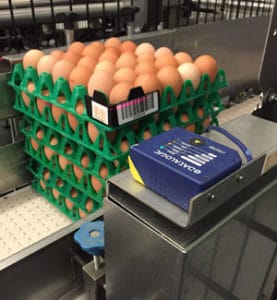 Door de introductie van het Eggs Cargo System, bestaande uit kunststof pallets, tussenplaten en trays is het automatisch vullen van de loader van sorteermachine of breker door middel van een depalletiser of robot binnen handbereik gekomen.
Daardoor is echter geen operator meer beschikbaar om een leverancierswissel te activeren wanneer een nieuwe partij eieren wordt gesorteerd of verwerkt. Met de door Ovotrack ontwikkelde en gepatenteerde Eggs Cargo Identifier (ECI) kan dit worden opgelost. De ECI is een plastic houder die op de hoek van een pallet met eieren wordt geklikt. De ECI is voorzien van een barcode. Deze barcode wordt bij het laden van de pallet ingescand en gekoppeld aan het IP-nummer van de pallet. De barcode wordt vervolgens op de loader opnieuw ingescand met een vaste scanner, waarna de partijwissel wordt doorgevoerd. De ECI is zo geconstrueerd dat de vuile trays detectie van de loader of breker de tray met ECI herkent. Daardoor kan de ECI eenvoudig worden verwijderd om vervolgens weer opnieuw gebruikt te kunnen worden.
Ovotrack ECI is een uitbreiding op Ovotrack Loader en bestaat naast Ovotrack software uit een vaste scanner en een hoeveelheid ECI's.